Daisy Sims-Hilditch, Studio Interior with Sorolla Poster
Size: 40 x 50 cm
Sold
Daisy Sims-Hilditch, Studio Interior with Sorolla Poster
Medium: Oil on Linen
Size: 40 x 50 cm
| | |
| --- | --- |
| Availability | Stockbridge Gallery, Online Shop |
| Medium | |
| Price Bracket | £1,000 – £4,999 |
| Size | 40 x 50 cm |
| Type of Artwork | Painting |
UK SHIPPING
For UK deliveries we use Royal Mail or Parcelforce for small items and a number of designated specialist art couriers for larger items.
Unframed Prints: £12
Paintings/Sculpture/Framed Prints: £45
INTERNATIONAL SHIPPING
We are able to offer worldwide shipping on all prints and paintings.
Each item is individually packaged by a specialist international art shipper. Please ask us for a quote before making your purchase.
Prices will vary according to weight, size, and destination country.
Your item may be liable for import duty, please ask if this is included in the shipping quote.
The specialist shipper will invoice you separately. This is to ensure that you pay the lowest possible shipping cost.
REFUND POLICY
Customer satisfaction is very important to us. If any item we ship independently to a client (i.e. we do not pass over the goods 'face to face') does not meet customer expectation or requirements, then the client must contact us either by email or letter within 7 working days beginning the day after the goods have been received to request resolution of any issue or to request a full refund (to include the cost of outward shipping to the client).
In these circumstances we require the client to pay the cost of returning the item to us in the condition in which it was sent and packed to the same standard to avoid damage in transit. Refunds will be made within 5 working days upon return of artworks received in good order.
Statutory consumer rights are not affected.
DISCLAIMER
Although sales information is updated on our website daily, all stock is offered simultaneously in the gallery. Therefore we cannot guarantee your chosen item/items will still be available for sale. A member of the gallery staff will contact you to confirm your purchase.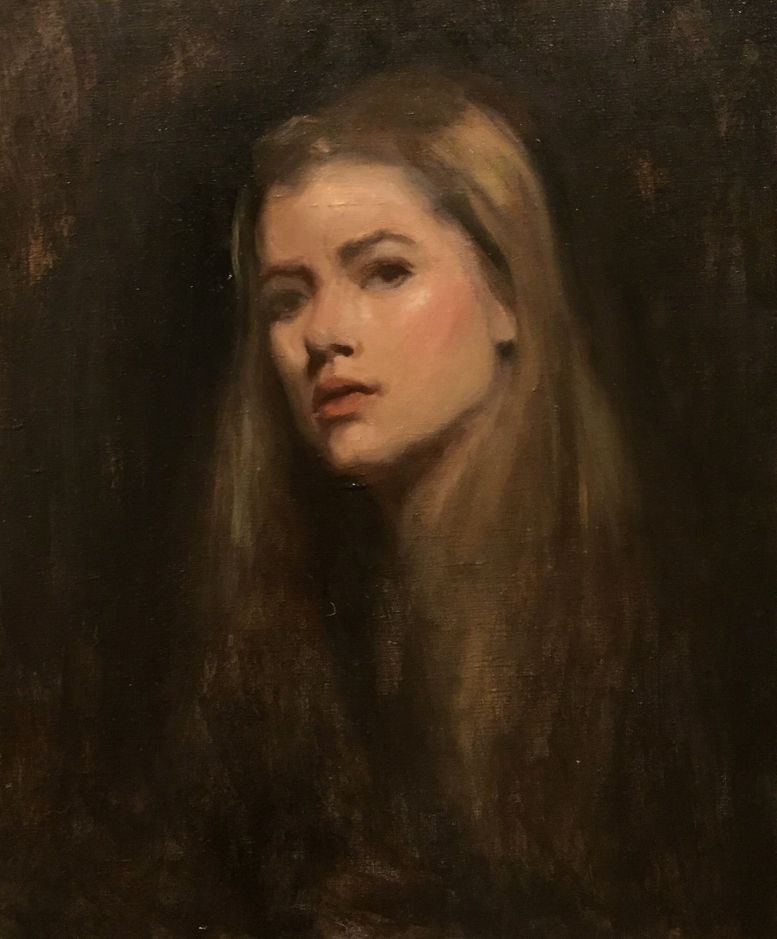 Born in 1991, Daisy is a figurative painter based in London.
Daisy says, "It is light that excites me and drives me to pick up my brushes and paint. My paintings are a celebration of light and I am fascinated by exploring tonal relationships in order to express the particular light effect before me. My classical training in Florence gave me the skills and desire to paint solely from nature and in natural light".
Daisy trained at Charles Cecil Studios and her work has now been recognised by a number of the top artists awards in the Country. As well as being selected for the BP Awards 2016 with her portrait 'Alessandra' exhibiting in the National Portrait Gallery, Daisy has also exhibited with the Royal Institute of Oil painters, The Royal Society of Women Artists and the Royal Society of British artists where she recently won the "Gordon Hulson Memorial Prize" for excellence in draftsmanship, variety and exploration. Recently Daisy's donation of a portrait commission to Philip Mould's Charity 'Plant Life' received the highest bid of the evening.
Philip Mould who is a leading specialist in British Art and Old Masters recently described Daisy as "an extremely versatile painter in the landscape and portrait traditions working both in plein air as the Impressionists before her and in the studio on 'sight-size' portraits of remarkable naturalism and elegance. Stylistically her handling of the medium is both painterly and refined in its application. In this respect she is an artist who understands how to control and manipulate paint in order to achieve portraits of astounding intimacy and beauty".
Related products