Samantha Thornton, Outstretched
Medium: Bronze
Size: L 20ccm x W 53.5
Samantha Thornton, Outstretched
Medium: Bronze
Size: L 20ccm x W 53.5
| | |
| --- | --- |
| Availability | Online Shop, Spring Hampshire Art Fair |
| Medium | Bronze |
| Type of Artwork | Sculpures & Ceramics |
| Size | L 20ccm x W 53.5 |
| Price Bracket | £1,000 – £4,999 |
UK SHIPPING
For UK deliveries we use Royal Mail or Parcelforce for small items and a number of designated specialist art couriers for larger items.
Unframed Prints: £12
Paintings/Sculpture/Framed Prints: £45
INTERNATIONAL SHIPPING
We are able to offer worldwide shipping on all prints and paintings.
Each item is individually packaged by a specialist international art shipper. Please ask us for a quote before making your purchase.
Prices will vary according to weight, size, and destination country.
Your item may be liable for import duty, please ask if this is included in the shipping quote.
The specialist shipper will invoice you separately. This is to ensure that you pay the lowest possible shipping cost.
REFUND POLICY
Customer satisfaction is very important to us. If any item we ship independently to a client (i.e. we do not pass over the goods 'face to face') does not meet customer expectation or requirements, then the client must contact us either by email or letter within 7 working days beginning the day after the goods have been received to request resolution of any issue or to request a full refund (to include the cost of outward shipping to the client).
In these circumstances we require the client to pay the cost of returning the item to us in the condition in which it was sent and packed to the same standard to avoid damage in transit. Refunds will be made within 5 working days upon return of artworks received in good order.
Statutory consumer rights are not affected.
DISCLAIMER
Although sales information is updated on our website daily, all stock is offered simultaneously in the gallery. Therefore we cannot guarantee your chosen item/items will still be available for sale. A member of the gallery staff will contact you to confirm your purchase.
Samantha Thornton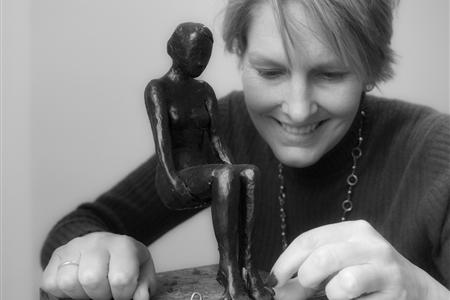 www.samanthathornton.co.uk
Samantha came to sculpting late in life, having previously channelled her passion for the medium as a specialist at Sotheby's in the Old Master Sculpture Department. It was only after she was diagnosed with cancer that she decided she had nothing to lose by trying to do it herself and started taking lessons at a community centre in Hammersmith. Her bronzes are born from wax, built up on a metal armature and then cast with the ancient lost wax technique.  Her stone carvings are painstakingly hewn from the stone by hand with a hammer and chisel and hand polished with sandpaper. These two very different disciplines allow Samantha to work in harmony, one creating the figure by slowly building it up from nothing with wax and the other destroying the rock and coaxing the trapped form to emerge from within: two sides of the same coin. Her interest in the human form originates from her illness and from learning to meditate at that time using her body as her point of focus to bring about healing.
Related products